CHITWAN – After a male adult rhino was found dead with a deep gunshot wound on the head inside the buffer zone of Chitwan National Park (CNP) on April 7, 2017, poachers were not able to kill any more one-horned pachyderms in Nepal for as many as 1,244 days.
During this period of peace in the wild, Nepal marked three consecutive years of zero-poaching.
But everything changed after the country went into a nationwide lockdown. The lockdown was first announced by the government in March 2020 for just one week, but it was extended several times for almost three months to limit the spread of the contagious coronavirus.
The prolonged period of limiting human mobility in cities and villages turned out to be a tragic time for endangered wild animals in Nepal's national parks.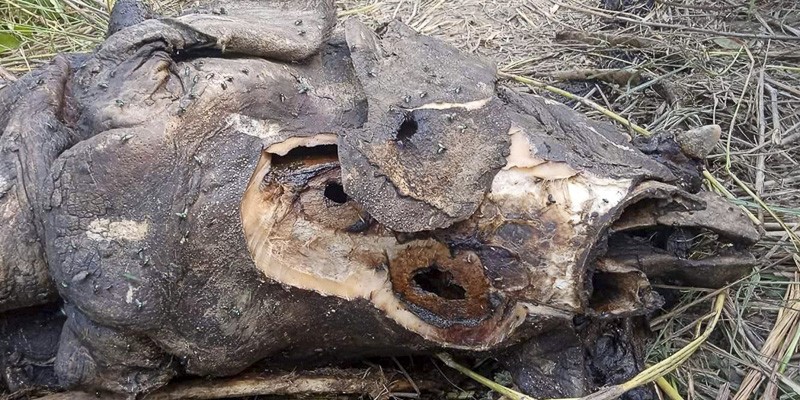 During the lockdown, security forces were more active in forcing people to stay indoors rather than patrolling the jungles. Even in the buffer zones of protected areas, community-based anti-poaching units were unable to maintain a tight vigil on suspicious activities. Taking advantage of lax security, poachers killed as many as four one-horned rhinoceros inside the CNP area.
In the first case of rhino poaching since April 2017, an adult one-horned male rhino was found dead on the western side of CNP on September 6, 2020. But the rhino's horn and hooves were intact. CNP warden Annath Baral explains that the rhino might have run away after being wounded, giving poachers no chance to extract the prized body parts.
On November 4, 2020, a female adult rhino and her calf were found dead on a small island formed by the Narayani River. The mother rhino's horn had been removed. Two days later, the decomposed body of another one-horned rhino was located. CNP officials believe that all these four rhinos were killed by poachers during the lockdown, or shortly after that – a period when anti-poaching activities were still in hibernation.
Poachers were active not just in Chitwan but in other protected areas as well. In April 2020, when the lockdown was strictly enforced, six musk deer were killed by poachers inside Sagarmatha National Park. And there were reports of an exchange of gunfire between police and poachers in the jungles of Parsa and Sunsari district.
There was an increase in wildlife crimes during the lockdown not only due to the security forces and community-based anti-poaching units being distracted but also because poor people were impelled to resort to poaching and smuggling to sustain their livelihoods.
On December 6, 2020, police arrested Karna Bahadur Rawal of Jajarkot and Bhakta Bahadur Thapa of Surkhet from Butwal on the charge of smuggling rhino horns.
Rawal had obtained a passport and was preparing to fly abroad for employment when the lockdown began. He did try to find work here itself but to no avail. We spoke to Rawal when he was in the custody of Rupandehi Division Forest Office. He told us that the lockdown forced him to get into wildlife crime. He said that he agreed to smuggle rhino horns for money as he was unable to find any other job during the lockdown.
Bodh Raj Subedi, Chief of Rupandehi Division Forest Office, says: "Many lost their means of livelihood during the lockdown, and wildlife traders used such unemployed people for poaching and smuggling."
If there was no lockdown, Nepal would have completed a new census of one-horned rhinos in 2020. But the lockdown disrupted the government's plan to update the rhino statistics. In 2015, when the last census was conducted, 645 rhinos were found in Nepal. Of them, 605 were in Chitwan alone. But as many as 151 rhinos have died in the last five years, mostly due to natural causes and some due to poaching.
CNP warden Baral says: "The death and killing of so many rhinos in just five years is alarming. We do not know their birth rate, but if they die at this rate, they will be lost forever from Nepal."
Baral says that the killing of so many rhinos in a very short period has prompted them to increase patrolling inside protected areas, strengthen relations between security forces and the community, activate community-based anti-poaching activities, and alert forest guards.
Tightening of security inside protected areas seems to have worked so far because no more major wildlife crime has surfaced since the killing of the four rhinos. But a shootout between an army patrol team and a group of poachers deep inside the jungles of Bardiya on December 19, 2020, has raised an alarm that there could be more poaching groups hunting down endangered animals even after the end of the lockdown.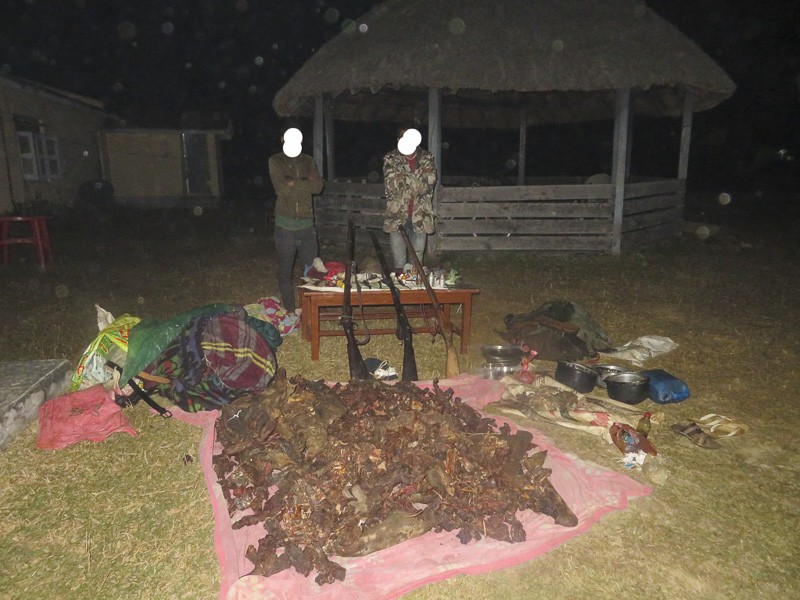 According to Asim Thapa, Assistant Warden at Bardiya National Park, when the poachers fled after a brief exchange of gunfire, the army patrol team found three .303 guns, slingshots, gunpowder, nets, sickles, and 70 kg of dry meat that the poachers had left behind. This indicates that they were prepared to spend weeks combing through the jungle to hunt down endangered animals.
---
Jailed, freed, and arrested again
Police recently arrested as many as 14 people belonging to two different wildlife criminal gangs on the charge of smuggling and selling rhino horns.
Jit Bahadur Kumal, a.k.a. Rana, his wife Indra Kumal, Hari Magar, Hari Tharu, his wife Bishnu Mayalu, Shiva Narayan Mahato, Birman Singh Praja and Shuk Bahadur Gurung, a.k.a., Ashok Kale were arrested on the charge of selling two rhino horns to two wildlife traders from Humla. The traders from Humla were planning to smuggle these rhino horns to China, according to police. But they are yet to be arrested. Police say a manhunt is on to nab the two traders and five other people involved in this illegal deal.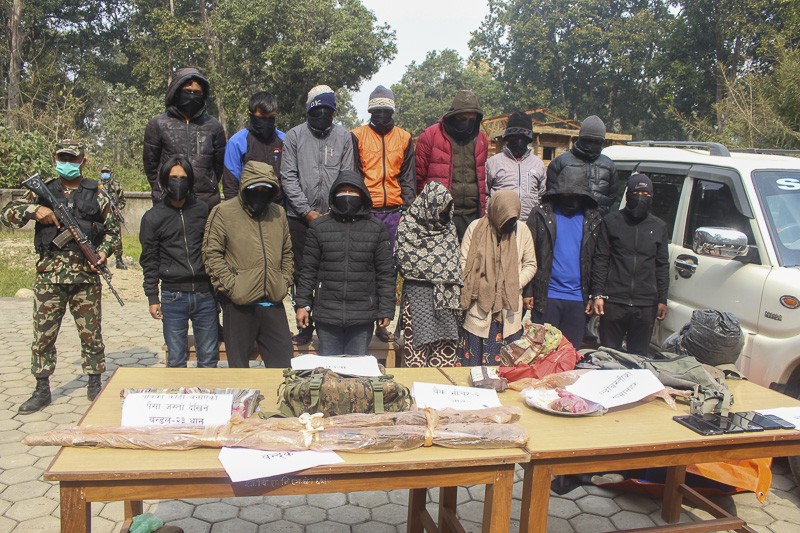 Similarly, Mekh Bahadur Nepali, Som Bahadur Gurung, Durga Harijan Sarki, Kailash Aale, Yongden Tamang, and Nangchhe Tamang were arrested on the charge of smuggling rhino horns to China. Police believe that Yongden Tamang and Nangchhe Tamang, both from Mugu district, are the kingpins of this gang. A third kingpin is still absconding, and police are searching for him, as well as five other accomplices, including one who previously served in the Armed Police Force.
Police say Jit Bahadur Kumal had previously served 15 years in jail – first time for five years and then for another 10 years – after being convicted of poaching rhinos. Even after being put behind bars on two occasions, he is still involved in wildlife crime. Police say Birman Singh Praja, who was arrested along with Kumal, had also spent four years in jail. His father and mother are still serving a 15-year jail term each for killing a rhino.
Kailash Aale and Yongden Tamang had also previously served jail terms, albeit not for wildlife crime. While Aale had spent two years in jail after being convicted of smuggling gold from China, Tamang was caught with 83 kg of red sandalwood.
DSP Raj Kumar Rai at the Central Investigation Bureau (CIB) of Nepal Police says they had launched an investigation following the poaching of four rhinos during the lockdown, which led to the arrest of 14 people, including four who had previously been jailed for wildlife crime and smuggling. He says: "The arrest of so many people involved in wildlife crime was possible because of the coordination between multiple agencies and stakeholders."
---
Challenges in tiger conservation
The CIB has made as many as 31 seizures of tiger parts in Nepal since January 2015. However, forensic testing of these tiger hides and bones was not conducted to ascertain whether they belong to tigers from Nepal, India, or elsewhere. Police officers and conservationists believe that only some tiger hides and bones seized in Nepal must have been from within the country. However, the fact that one more tiger was found dead in Bardiya National Park in September 2020 shortly after a tiger was killed in the buffer zone of Banke National Park indicates that poachers are active even in Nepal's protected areas.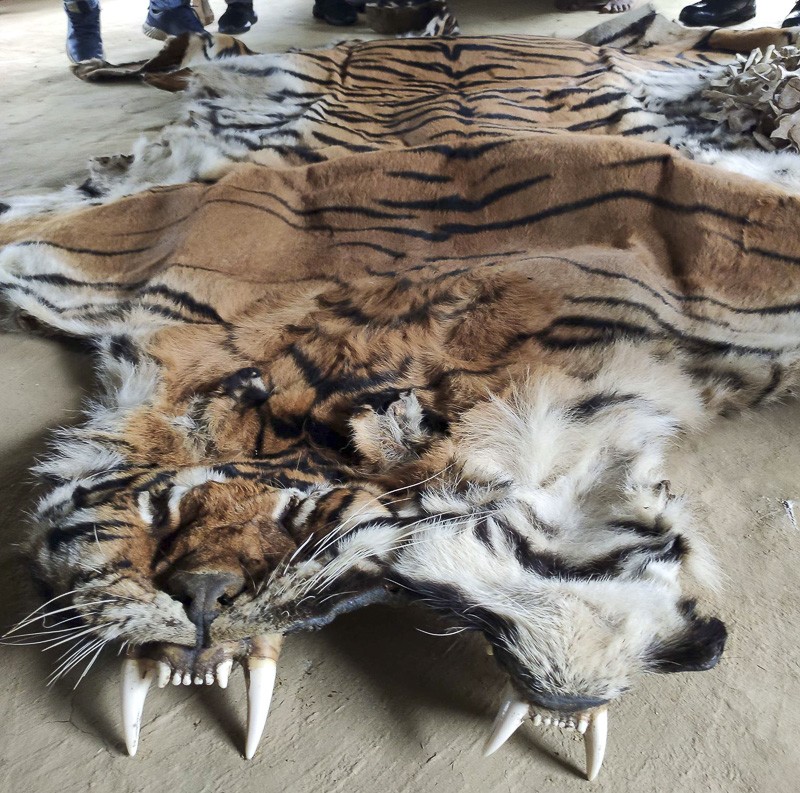 The recent arrest of Nawaraj Gharti Magar, a wildlife poacher, has also thrown some light on how vulnerable tigers are to poaching in Nepal. Gharti Magar was arrested along with Tilak Singh Gharti Magar and Manoj Lamichhane on July 4, 2020, in Rapti Sonari of Banke district. Police had seized tiger hides and 10 kg of bones. During interrogation, Gharti Magar had revealed that they had killed a tiger in the jungle of Banke in the very first week of the lockdown.
Police say an analysis of call details retrieved from the mobile phone used by Gharti Magar has shown that he was in touch with Surjit Ram Budha, a wildlife smuggler. Budha was arrested along with Aum Bahadur Rana and Ramit Sunar by the CIB in February. During interrogation, Budha revealed that he had killed one tiger in the jungles bordering the Dang and Banke districts.
SSP Prabin Pokharel, who was with the CIB, says that it is important to keep those who have been previously convicted of wildlife crime under surveillance. He says: "It is needed because many of those arrested for wildlife crimes in recent months have turned out to be those who were previously jailed for similar crimes."
Nepal is winning international accolades for being on track to achieve its target of doubling the tiger population by 2022. In the last tiger census conducted in 2018, the population of the big cats in Nepal had already reached 235 – nearly double the number (121) in 2009.
But recent reports of tiger deaths, poaching activities, and seizers of tiger parts, especially after the lockdown, are a reminder that the progress made in tiger conservation can easily be undone if there is complacency.
The World Wildlife Crime Report 2020 released by the United Nations has put Nepal among those countries where wildlife crimes are on the rise. The report also mentions that Nepal and India are being used as transit to smuggle tiger hides and bones to China.
---
Wildlife crime on the rise
A total of 106 cases of wildlife crime have been registered between mid-June 2019 and mid-June 2020, according to the Department of National Parks and Wildlife Conservation (DNPWC), which is more than double the number of cases (64) registered during the previous corresponding period. Of the 106 cases registered between mid-June 2019 and mid-June 2020, nearly half (47) were registered after the government imposed the lockdown.
Kumar Poudel, who has been studying wildlife crimes for the last six years, says that wildlife crimes soar when law enforcement agencies are distracted by other issues. He says: "When mobilization of security personnel to protect wildlife had been limited during the Maoist insurgency, the number of rhinos killed had increased. What we have recently seen in Chitwan suggests that poachers have once again benefitted from lax security measures."
Most seizers of wildlife body parts have taken place in Province 5. After the lockdown started, two tiger hides, one deer horn, two sets of pangolin scales, skins of two red pandas, one rhino horn, two musk deer pods, and one leopard skin have been seized in the province. This is the largest volume of wildlife body parts seized in Province 5 than in any of the previous corresponding periods. In Sudurpaschim province, six leopard skins, one axis deer skin, and 114 grams of wild boars have been seized during the same period.
A CIB officer says that most wildlife body part seizers have taken place after the end of the lockdown. He explains: "Even though most wild animals were killed during the lockdown, the smugglers were not able to sell them immediately due to travel restrictions. When long-route bus service resumed, the smugglers began to transport animal parts, some of which were seized by police."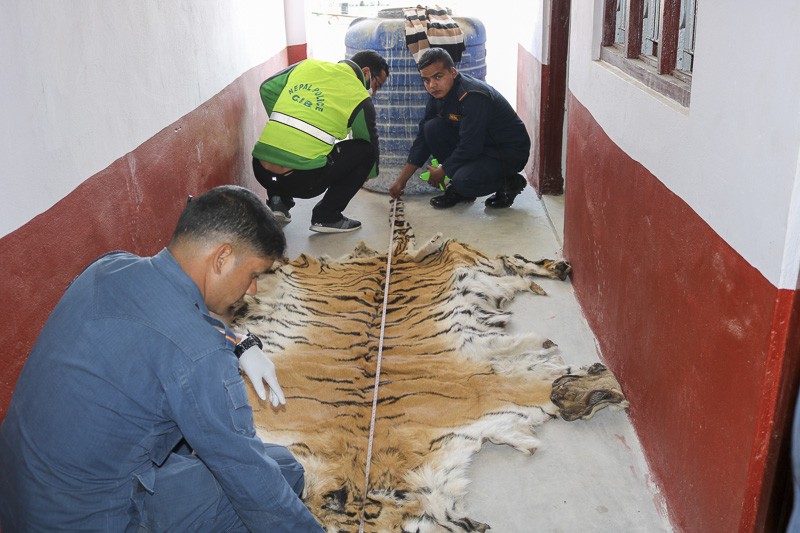 Krishna Prasad Bhurtel, former Chair of the Buffer Zone Management Committee of CNP and now Member of the State Assembly in Bagmati province, also points to the lack of legal clarity regarding buffer zones as a reason behind increasing wildlife crimes. "As per our laws, national forests, parks, and reserves fall under the jurisdiction of the federal government, but there is no such clarity when it comes to managing buffer zones," he says. "Environment protection and development works need to be done by the federal and local governments respectively in buffer zones."
According to a study jointly conducted by DNPWC and World Wildlife Fund (WWF) Nepal, the findings of which are yet to be made public, a total of 514 cases related to wildlife crime were reported from 11 protected areas in the first month of the lockdown, which is even higher than the combined number of cases reported in the previous 11 months.
The lockdown badly affected Nepal's tourism industry, indefinitely shutting down hotels, restaurants, and home-stay facilities for months affecting the livelihood of people living in the buffer zone. This is also believed to be linked with a sharp rise in wildlife crimes. Keshav Devkota, President of the Buffer Zone Management Committee of CNP, says: "The impact of the pandemic on Nepal's tourism sector is linked with an increase in wildlife crimes."
According to the annual report (mid-June 2019 to mid-June 2020) of DNPWC, the number of tourists visiting protected areas, including national parks, has plummeted to a seven-year low. In March 2020, when the lockdown began, COVID-19 had already been declared a pandemic, and only a small number of people visited protected areas that month. In the following three months, not a single tourist visited any national park, wildlife reserve, or hunting reserve.
The unpublished report of the study jointly carried out by DNPWC and WWF Nepal has pointed out that the financial stress caused by the pandemic has forced more people residing in buffer zones to depend on natural resources for their livelihood, which eventually leads to deforestation and wildlife crimes.
A CIB officer says that they had anticipated an increase in wildlife crime as soon as the lockdown began and this intelligence was communicated to those responsible for protecting wildlife in protected areas. Requesting anonymity because he was not allowed to speak on this matter, he said: "We knew from our own experience that wildlife crimes would increase during the period of a national crisis like a lockdown, so we alerted responsible agencies. But we were not able to do anything because protected areas are not under our jurisdiction. We were active only outside protected areas."
CNP warden Baral says that national parks alone are not capable of protecting wildlife, and there needs to be a joint effort involving all sides. He says: "We need to engage those who have previously been involved in wildlife crimes in wildlife conservation. If we fail to engage them, they might return to their old profession. So, we are developing a strategy on it. We also want to help with their social rehabilitation by involving them in wildlife conservation."
---
Brigadier General Santosh Ballav Poudel, Spokesperson of Nepal Army
The rate at which rhinos have been killed in Chitwan in recent months is a matter of concern. To prevent poachers from killing more wild animals, we have launched an operation under which the frequency of patrolling has been increased. We have also increased surveillance in risk-zone areas. We are more focused in Chitwan and Bardia National Parks, which are home to endangered Royal Bengal tigers and one-horned rhinos.
During the COVID-19 pandemic, many jailbirds had been released from prison. Some of them were convicted wildlife poachers and smugglers. They knew the routes of tigers and rhinos inside protected areas, and they returned to their old profession of poaching and smuggling.
When everyone's focus shifts elsewhere, wildlife poachers and smugglers swing into action. This is what we have learned from our past experiences. And this is exactly what happened during the lockdown. Anticipating more poaching activities, we had carried on with our anti-poaching activities even during the lockdown. But those involved in wildlife poaching are now getting smarter, and we must make the best use of the technology we have to counter anti-poaching activities. We have installed CCTV cameras in many parts of protected areas, which have also helped us keep an eye on suspicious activities. We also set up ambushes targeting poachers. The army has used all means to protect wildlife, which needs to be enhanced further.
---
Hari Bhadra Adhikari, Information Officer, DNPWC
Wildlife crimes have certainly risen in Nepal in recent months, but there has not been a research conducted to establish a correlation between this increase and the lockdown. However, what no one can deny is that there was no frequent patrolling in protected areas in the first few weeks of the lockdown. Community-based anti-poaching units also failed to keep vigil on suspicious activities. It was a golden opportunity for wildlife poachers.
To make matters worse, the flood in the Narayani River cut off many small islands for several months, and army patrol units were unable to reach there. Poachers might have also benefitted from this situation. The situation is now under control, but we should not become complacent. Patrolling was halted for some time, but the army quickly resumed it. We have now designed and implemented counter-poaching security strategies.
Some of the convicted poachers, who were freed from prison after serving jail terms, were found to be involved in poaching again in Chitwan. What this means is that we have still not succeeded in dismantling the network of wildlife poachers and smugglers in Nepal. Unless the kingpins of wildlife crime are arrested, their network remains active. Once the convicted poachers or porters come out of jail, they are used by the network to kill more wild animals.
###
Read our guidelines for Republishing this story here.