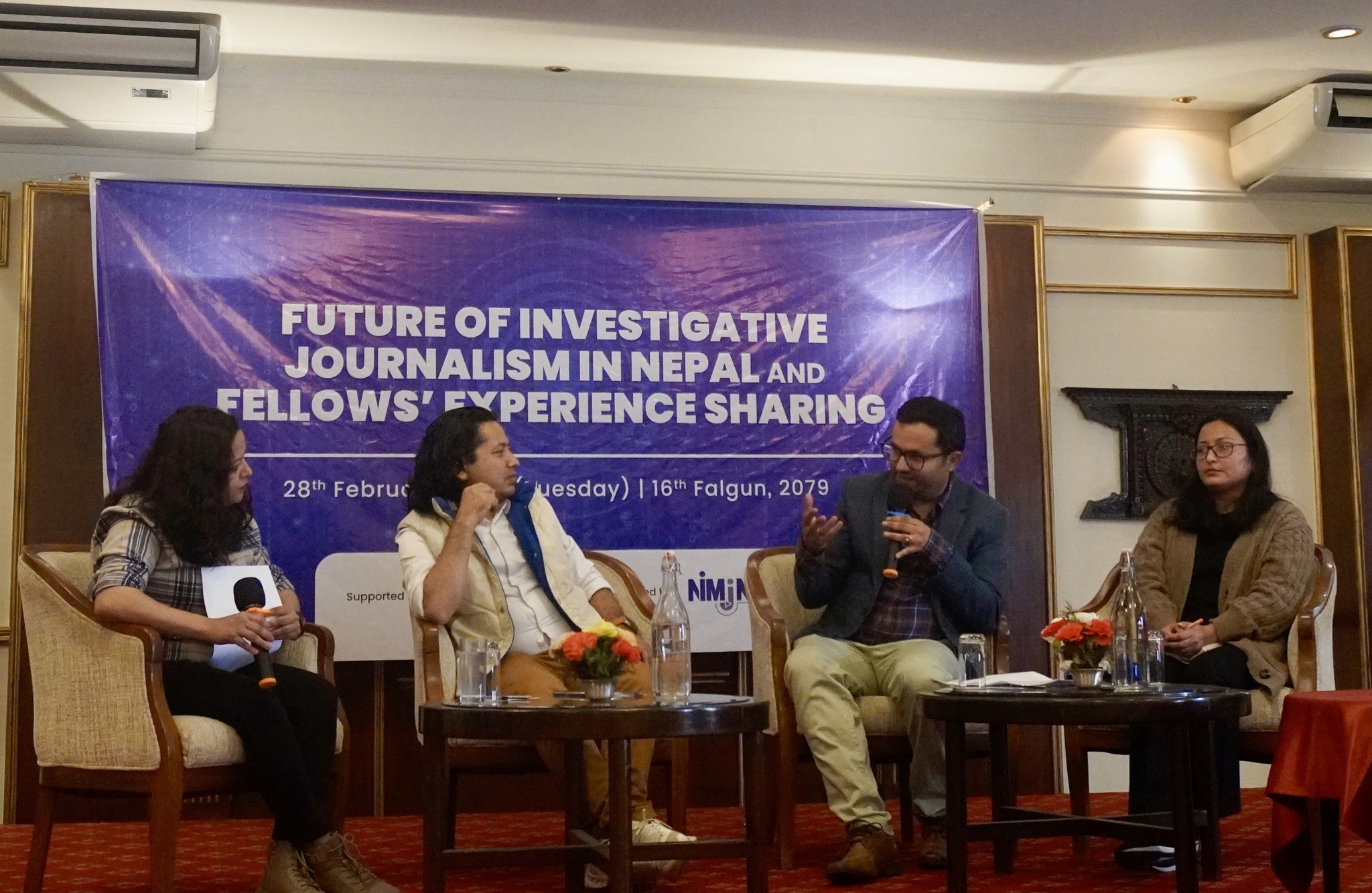 What's the future of Nepali journalism and investigative journalism after ChatGPT?
NIMJN's Rajneesh Bhandari put forth this question to a panel on the future of Nepali investigative journalism with the onset of ChatGPT and AI on February 28, 2023, at the Malla Hotel, Kathmandu. The panel included Umesh Chauhan from Kantipur Daily, Deepa Dahal from Ukaalo.com, and Sahina Shrestha from Nepalitimes.com.
Umesh Chauhan, editor at Kantipur Daily, highlighted the importance of AI in our society and journalism but argued that journalism will require a human job.
"As long as a lawyer goes (to the court) and debates, a driver drives a car, engineer goes for a survey, a doctor performs surgery, till then AI cannot do journalism…as long as there is human civilization, journalism will be done by humans is what I think." - Umesh Chauhan.
Sahina Shrestha, online editor at Nepalitimes.com, suggested that journalists should verify the information they get using ChatGPT as some of the facts it provides are outdated and may be incomplete or incorrect.
"We have to do fact-checking because if ChatGPT does not have an answer, it will make up an answer for you. Even in the case of quotes or any papers it is citing, it is very important that we go back and see whether this person has said this particular quote or not or whether this particular paper exists or not. So a lot of misinformation and disinformation can happen because a lot of people are using ChatGPT as an alternative to search engines…" - Sahina Shrestha.
On the pros of using such technology, she highlighted how these AI tools like ChatGPT can be used in the journalism profession as an aid to editing, simplifying languages in technical papers, or overcoming language barriers.
Deepa Dahal, senior correspondent at Ukaalo.com spoke on the need for media literacy among the audience in the emerging landscape of social media.
"...issue of media literacy is very poor (in Nepal)...Who should be taking the responsibility for this media literacy?... People are taking in news according to their own interpretations… Does the audience have the skill required to compare news from social media and news from mainstream media? This is a big question happening in our society right now…" -Deepa Dahal.
Panelists also discussed the ethical standards in Nepali journalism compared to other South Asian countries, the difficulty of being a woman in the investigative journalism field, political news coverage in Nepal, and the safety of investigative journalists in the country, along with possible ways for better investigative journalism.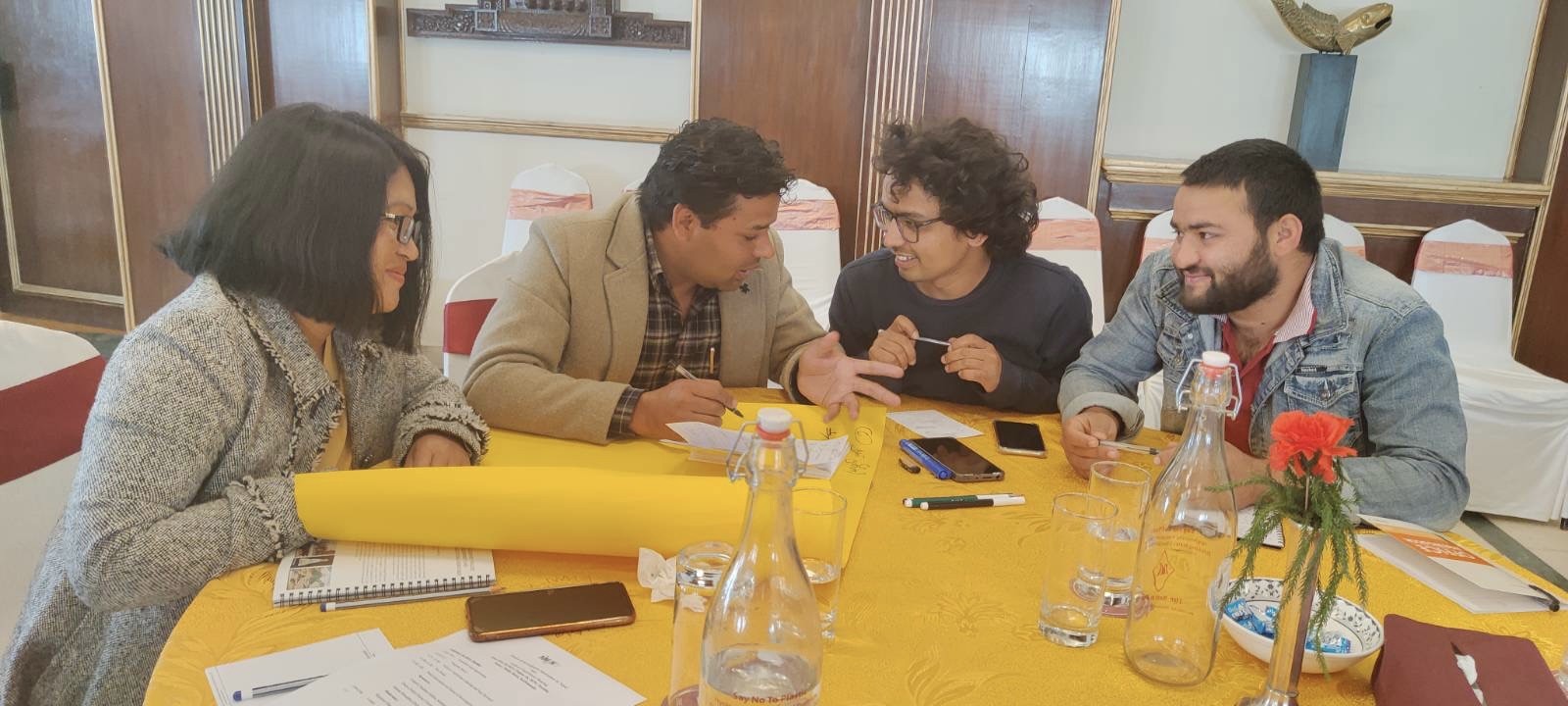 Other participating journalists took part in a Q&A session with the panelists and also joined in on a group activity in an earlier session where they discussed the challenges in investigative journalism in Nepal, possible solutions, and what organizations like NIMJN can do.
Some of the recorded responses are below:
| | | |
| --- | --- | --- |
| Challenges | Possible solutions | What NIMJN can do |
| Lack of resources and means ( finance, logistics, etc) | Guaranteed availability of fair wages on time. | Help in capacity building through increased participation |
| No guarantee of personal and professional safety | Investment by media organization/ Newsroom investment | Training provisions and story-based funding |
| Gaining knowledge influenced by caste, religion, language, culture, and politics | Freedom of experiment and an environment for communication | Help with teamwork and collaboration |
| Lack of encouragement, deadline, and mentorship | Provision of fellowship and other resources | Help in coordination with the international market |
| Lack of commitments from the media outlets | Provision of security and guarantee of employment | Encourage and arrange in doing better writing and exposure |
| Lack of journalists involved in investigative journalism in the newsroom | Arrangement of training and skill development/training provision | Conduct monthly and yearly events related to investigative journalism |
*Quotes are translated from the Nepali language.
///////