Nepal Investigative Multimedia Journalism Network (NIMJN) organized an investigative documentary workshop for Nepali journalists from May 23 to May 27, 2022.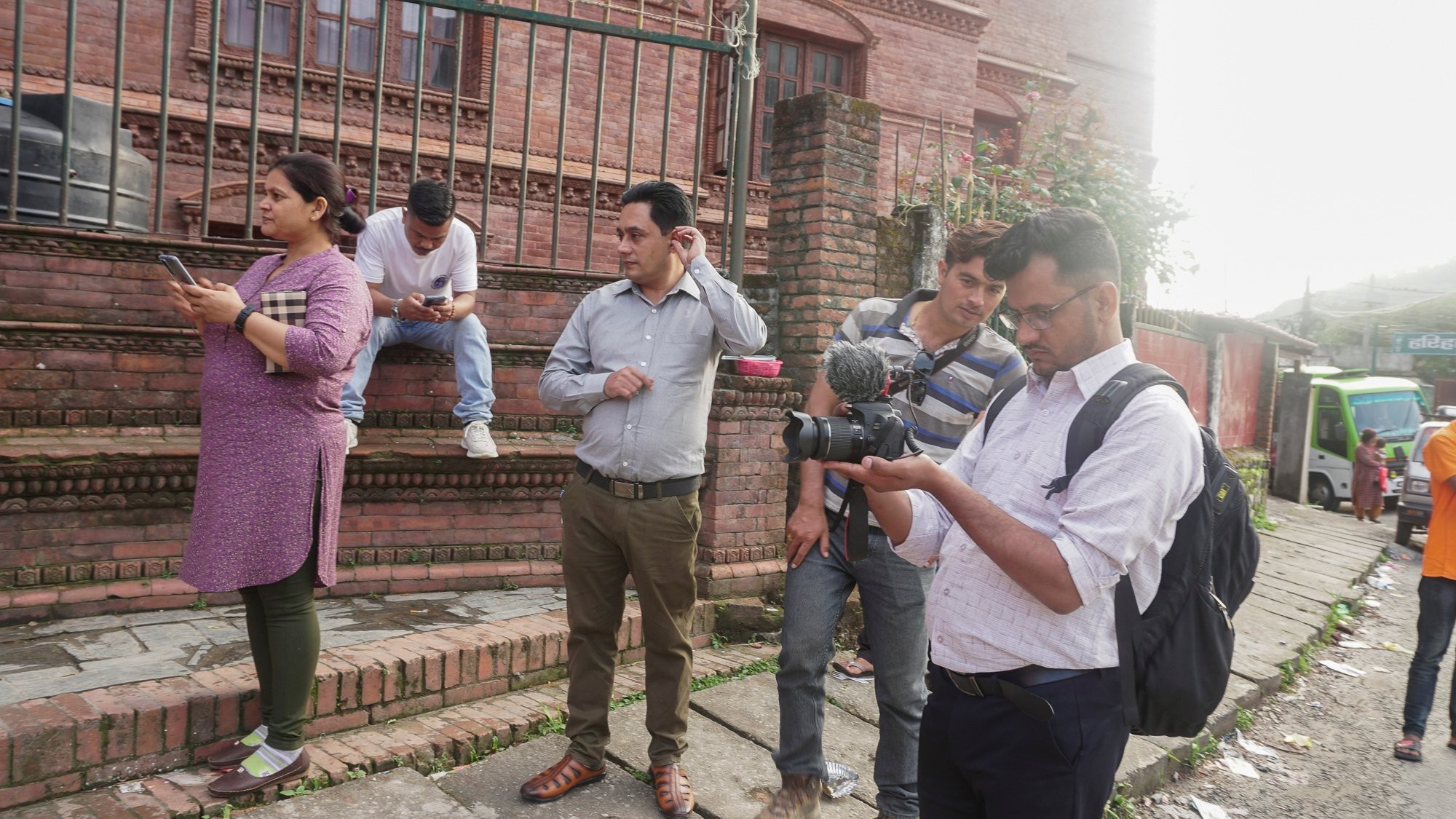 The five days long residential workshop, trained journalists on documentary filmmaking, investigations, camera techniques, planning, pre-work, research, story scripting/writing, visual editing, and publishing.
16 journalists (4 female and 12 male) affiliated with various media outlets from 12 districts participated in the training. Journalists from Butwal, Dang, Nepalgunj, Kathmandu, Pachthar, Doti, Jhapa, Bhaktapur, Bajura, Lalitpur, Kailali, and Siraha districts participated in the workshop.
Rajneesh Bhandari, Chief Editor, and CEO of NIMJN stressed the importance of documentary filmmaking for journalists. "The workshop would be highly beneficial for journalists who are doing investigative stories in Nepal as they could tell stories visually," Bhandari said, "Visual investigations have more impact."
In the workshop, Jyoti Keshar Simha, a senior cinematographer who has worked for BBC, Aljazeera, and other outlets, trained journalists on camera techniques, shot sizes, white balance, and other rules while making a documentary.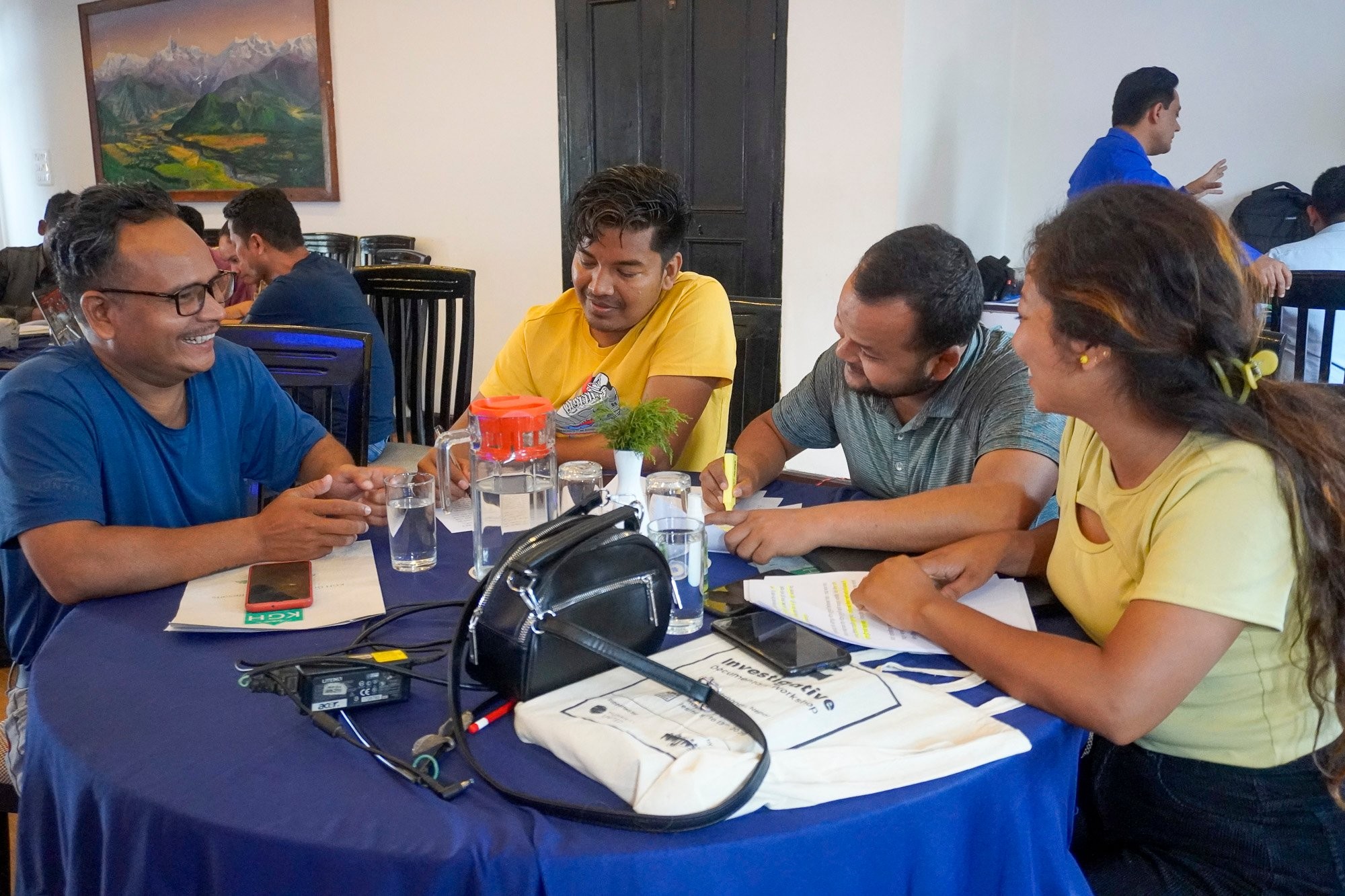 Rabin Giri, Editor of Himal Khabarpatrika, talked about the story scripting/writing process to the participants.
Ranjan Pradhan, the visual editor who has worked with Kantipur TV and Galaxy 4K, instructed about the visual editing process and the importance of nonlinear video editing software, and some tricks while editing the documentary videos.
Bhoj Raj Bhatt, a journalist-turned filmmaker who made Sunkali, talked about his documentary filmmaking journey and new projects in the making.
During the workshop, participants divided into four groups produced their stories and it was screened on the last day.
Feedback from participants:
"I was eagerly waiting for this kind of documentary training to integrate journalism and this time it happened. My expectation and learning exceeded in the training. After the completion of the workshop, I want to implement the things learned."
- Parbat Portel, Kantipur Media Group, Jhapa
"Frankly speaking, I wasn't aware much about visual and documentary filmmaking but I found this workshop helped me to learn about new ideas and new thoughts about documentaries. I didn't know how to use a camera, how to download videos, and how to edit the videos but from this workshop, I found myself in a different version and I learned those things that I didn't know before. The training helped me develop those skills."
– Ranjita Adhikari, National News Agency, Dang
I was working as a multimedia journalist. From this workshop, I wanted to learn more about investigative documentaries. At the same time, it's my learning phase so, from this workshop, I have met 16 participants and trainers. I have learned new things from each individual. This training was fruitful and systematic and will help us guide in making documentaries in the future.
-Barsha Shah from Deshsanchar.com, Kathmandu.
"I had a great experience in the investigative documentary workshop. My objective for this workshop was that I have been heavily influenced by multimedia/digital media since I embarked on this journey of journalism. From the very beginning, I tried to do something on digital media by myself but I did not participate in this kind of workshop. This workshop built some hope for me to do something in a documentary. Almost my expectation was fulfilled from this workshop but I wanted more in connection/interactions with speakers. NIMJN helped me to fulfill my dreams. I am thankful to NIMJN. In Nepal, NIMJN is doing well on the Investigative multimedia platform. This kind of empowerment that the NIMJN did to journalists was very impressive and I suggest NIMJN to continuity on this work."
-Madan Chaudary, Anapurna Daily from Kathmandu.
Participants of the workshop:

| | | | | | |
| --- | --- | --- | --- | --- | --- |
| S.N. | Surname | First Name | Gender | Address | Work Address |
| 1 | Adhikari | Krishna | Male | Banke | Himalaya TV HD |
| 2 | Adhikari | Ranjita | Female | Dang | National News Agency (RSS) |
| 3 | Banskota | Giriraj | Male | Phidim, Pachthar | Himalaya TV |
| 4 | BK | Prem Bahadur | Male | Banke | Radio Morning Star 90 MHz |
| 5 | Budhathoki | Sagar | Male | Bhaktapur | Himalkhabar.com |
| 6 | Budhathoki | Sushila | Female | Kathmandu | Freelance |
| 7 | Chaudhary | Madan | Male | Balkumari, Lalitpur | Annapurna Post |
| 8 | Ghimire | Keshav | Male | Baneshowr, Kathmandu | Nepal Television |
| 9 | Kamati | Surendra Kumar | Male | Siraha | Naya Patrika |
| 10 | Kc | Indra Kumari | Female | kailali | Radio Ghodaghodi, Dhangadhi Post Daily |
| 11 | Khanal | Chandra Prakash (CP Khanal) | Male | Butwal, Rupandehi | Taksar magazine |
| 12 | Khanal | Prabhat Kumar | Male | Kritipur, Kathmandu | www.deshsanchar.com |
| 13 | Portel | Parbat | Male | Jhapa | Kantipur Media Group |
| 14 | Shah | Barsha | Female | Kathmandu | Deshsanchar.com |
| 15 | Singh | Dil Bahadur | Male | Dipayal Silgadhi -4, Doti | News24 TV, Gorkhapatra Daily, sudurnewsline.com |
| 16 | Singh | Prakash Bahadur | Male | Badimalika-8, Bajura | The Himalayan Times /NTV/ badimalikakhabar.com |